Pool Table Recovering in Hampton
Looking for specialists to take care of your pool table recovering? Look no further! Not only do we move and setup billiard tables. Our professional pool table installers offer skilled and guaranteed pool table recovering services. You can rest easy knowing that your service will be handled by experienced billiard table technicians. Give the Hampton SOLO® Pool Table Movers a call to get your free quote and schedule your pool table recovering service now!
We provide a quality pool table felt to recover during installation for an additional fee. Keep in mind that our workmanship and the materials we provide for each service. This is to say that the felt we provide for your recovering service is protected by an exclusive guarantee backed by a national organization.
Furthermore, if you have a billiard table that you want to sell so that you upgrade to a bigger or newer model, feel free to post an ad on our classifieds section. We can help you sell your pool table for free!
Unrivaled pool table recovering service using choice felt material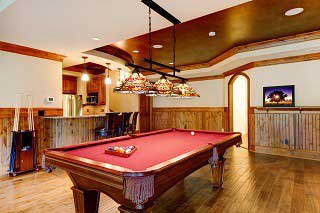 We take pride in being the sole company in the area that not only guarantees the workmanship on all of our pool table moves but also the felt material used in our pool table refelting service.
We use billiard cloth of the highest quality available for the best game possible. It's important to realize that, no other company can offer this coverage. You can ask around and you will find out why we are the best option for your job.
We use the right tools and techniques to deliver an optimal service each time, all the time! Not to mention our billiard table installers are skilled in this area of expertise. Rest assured your billiard table setup service to be carried out by specialists. We guarantee a perfect level for a whole year!
Billiard table services provided by the SOLO® Team are guaranteed to deliver the best playing experience.
We guarantee our workmanship and materials for each and every one of the following services;
Complete pool table moves
Installation only of a new or used pool table
pool table refelting on an already setup table or at the time of installation
a tear down only for moving purposes
And pool table repairs including the quality of materials
The SOLO® Pool table refelting services are backed by a written guarantee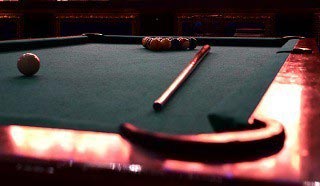 The Billiard Table SOLO® Services provides an exclusive guarantee in writing. This guarantee is issued by the American Billiard Installers Association in writing.
The ABIA is the only organization in the country working on improving the service standards and practices within our industry.
To put it another way, our exclusive guarantee is the only real service guarantee. The document warrants our workmanship and also the quality of the felt we provide for the job.
NO other company can offer this coverage, just ask around if any other company covers their cloth against rips, tears or manufacturers defects for an entire year.
Pool Table Refelting Material Choices
We offer prime quality pool table felt in a wide variety of color choices. Whether you are you looking for something to compliment the color scheme of your room, or perhaps a favorite team color? Whatever the case may be, we can certainly assist you.
The main differences between standard cloth and upgraded worsted material are the speed, accuracy, and overall gameplay performance. With this in mind, it is important to realize that if we provide felt for the recovering service, it is protected under warranty.
Standard woolen pool table felt colors (Opens in a new window.)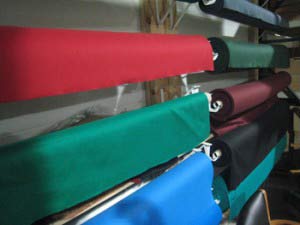 Stain-resistant material woolen standard pool table felt is what is most commonly found on pool tables and most likely what is offered with all new pool tables.
The texture is a little "fuzzy" which makes it slower and the most economical of the options.
Simonis worsted felt colors  (Opens in a new window.)
The most widely recognized name in the industry, used by professionals and passionate players. This pool table cloth undergoes a special manufacturing process that results in a beautiful precision cloth. This achieves the smoothest and most accurate playing surface available.
Pricing your pool table refelting service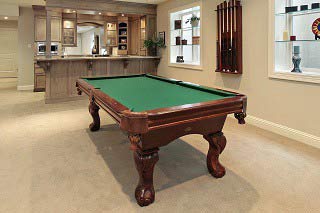 Pricing fluctuates depending on a few particulars and the style of felt you pick out. This being coupled with having the accurate playfield dimensions of your billiard table.
Typical regulation pool table sizes are 7ft, 8ft, and 9ft. Another key point is figuring out the cost of moving your billiard table.
To clarify this check out the information we put together regarding the price versus the cost to move a billiard table.
The Hampton SOLO® Billiard Table Movers takes care of your pool table refelting needs. Make sure you check your room size before you decide what size pool table to purchase.
Wrong information such as pool table and game room dimensions not could incur additional trips and material costs.
List of particulars needed in order to provide an accurate pool table recovering quote.
Size of the playfield area of your pool table
Whether the pool table is in pieces or already setup
The brand or manufacturer
Number of slates
If it has drop leather pockets or a ball-return system
If the pool table is an antique or modern style
Whether you want standard or upgraded cloth to refelt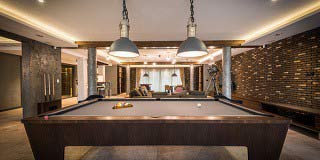 For the most part, having this information helps us provide you with a quote for your pool table refelting service.
By the same token, this helps in our preparation efforts to schedule your service properly.
Give us a call and get a quote for pool table recovering from professionals using the highest quality billiard cloth available for the best game possible.